Welcome to the Virtual Pilots Association
The Virtual Pilots Association (VPA) was created by hardcore flight-simmers and real pilots wanting to create a new federative community of real and virtual pilots. This community was created to fill some gaps in virtual aviation and virtual airlines with a unique place where pilots could fill their logbooks with general aviation, airliner and classic experience and in the future other kinds of flying machines. But that is just the beginning of many other features that came to mind. We also created a fun environment to learn, exchange and fly!
The Virtual Pilots Association is now offering a unique experience where you start a virtual pilot career, fly any plane you want from and to any place in the world with general aviation, simulate any real-world airline operation, and increase your experience in many ways, even if you're already a member of a virtual airline.
But that's not all!
You're not alone! You can communicate with other members and management thru our forum and Live Chat. All members agree that VPA is over all a great community of friends.
Our website has extensive features to help you find, prepare and fly a flight. It has a unique online system that keeps a complete track of your flight without having to use any piece of software on your computer. And that's only a small part of it!
Screenshot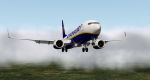 May'16 Individual contest winner
Shane Dallimore
News
15 Jan 14 - Chief Pilots Elected
As always also this year it was hard to choose from very good candidates and many Members participated in the voting. The Chief Pilots elected will proudly serve our vigorous community helping others with their knowledge and experience. Congratulations go to all candidates, best wishes to the elected ones and to Chief Pilots stepping down - a big Thank You for all you did!
15 Jan 14 - Chief Pilot Award
Chief Pilots are important part of Virtual Pilots Association. In recognition of their service to our community the President decided to create a special, honorary badge that is awarded to all of our Chief Pilots, past and present. VPA is proud of you!